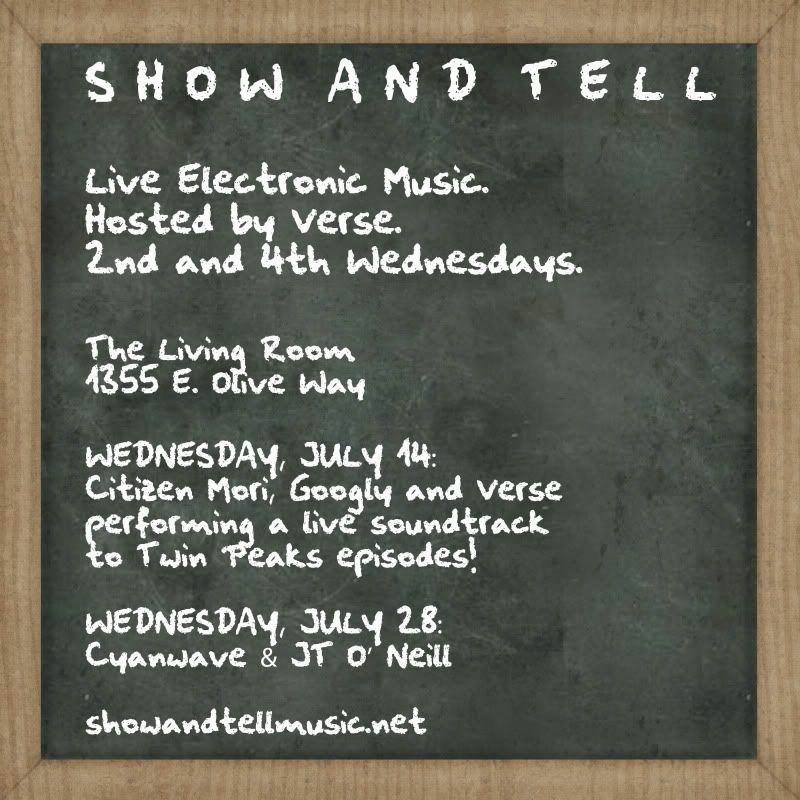 Show And Tell continues its biweekly residency at the Living Room highlighting Northwest live electronic music producers. Our next showcase features new works from three multi-talented (and very busy) producers: Cyanwave & JT Hooker.
CYANWAVE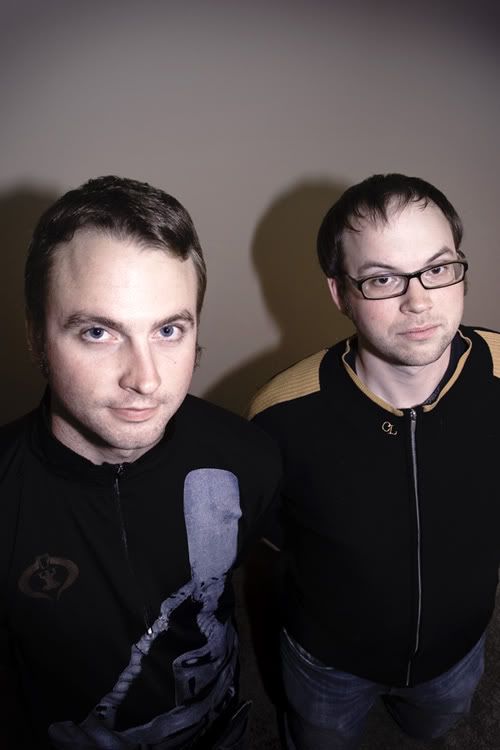 Cyanwave is the collaborative and symbiotic relationship between Justin Byrnes, Keith Kelley and their machines. Well rooted in all aspects of audio creation and manipulation their sound evolves from mutual interests and inspirations into a mind expanding web of sound design and programming. Motivated by improvisational jams and conceptually based experiments Cyanwave cultivates a sonic hybrid of post warehouse rhythms and space-dub synthesis. Together Byrnes and Kelley have pushed their musical and technical boundaries to explore complex and abstract digital expressions of their own moments in time and space. These ideas radiate from the studio through their live performances with constant reaction and reinterpretation by each member. Continually branching out on new ideas, Cyanwave weave a hypnotic journey of inward reflections from distant vantage points for each listener to explore and get lost inside of.
Cyanwave will be performing at Show And Tell a special chilled out reprise of their Photosynthesis set!
More about Cyanwave at:
www.from0-1.com
www.cyanwavemusic.com
-------------------------------------
JT HOOKER (aka JT O'Neill)
JT Hooker's early musical inspirations came from 80s Pennsylvania garage punk and 90s German Digital Hardcore. Hooker got heavily involved with college radio, creating the University of Pittsburgh's outdoor remote broadcasting events, interviewed a range of musicians while studying at the University of Sheffield (England), and held down the 9-11PM Saturday slot at New York University.
Shortly after moving to Seattle from NYC in Dec'06, JT learned to ride motorcycle and lived on the Pacific Coast from Vancouver > Tijuana for 8 months. Upon his return, JT built an audio/visual mobile station which led to the start of "12hr notice" events- mostly guerrilla-style street parties, announced the day-of. At the now-defunct The Hole (12th + Pike), JT curated the Open Wide film/installation/photography event and helped throw The Hole's last late-night parties. JT has done live, customized video projections and DJs eclectic tunes with Seattle parties/events such as Hard Times (Re-bar + The War Room), Three Dollar Bill Cinema, ETG, Sacrilicious/Convert/Yes @ Chapel, Rough Trade/Vibrator/Fringe/Underwear @ The Eagle, BEDLAM halloween trapeze @ The Emerald City Aerial Dome, and various events at the empty lot of 500 Pine
More about JT Hooker can be found at
cbabc.com/12hr
Hosted by Show And Tell resident Verse
Enjoy delicious, hand-crafted cocktails and beer served fresh by the Living Room bar staff (many items $5 and under!)!
No cover!!
More about Show And Tell at:
www.showandtellmusic.net