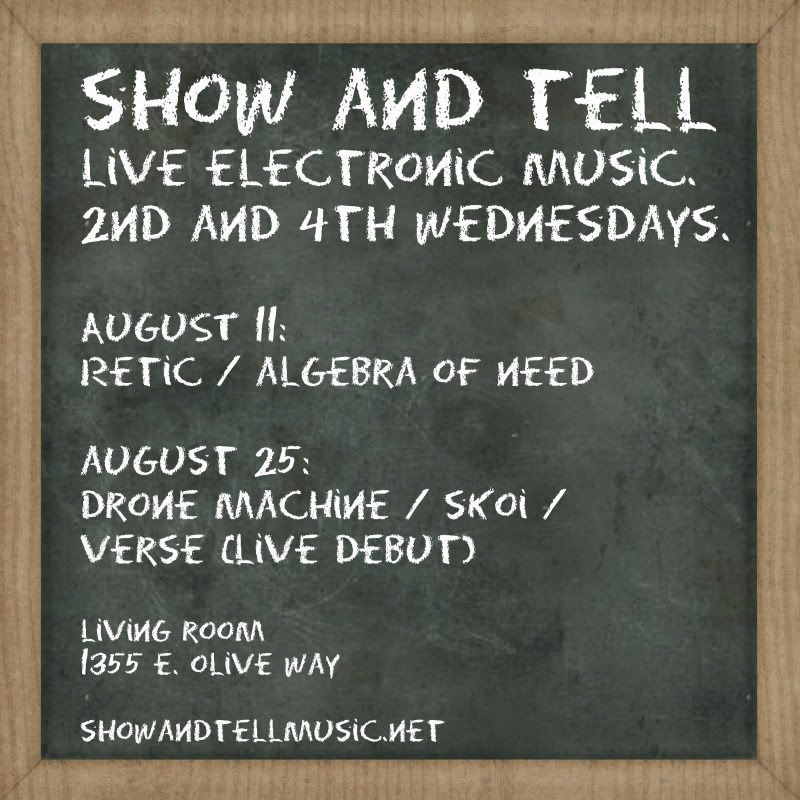 Join us at Show And Tell this upcoming Wednesday and get your action-packed weekend of electronic music started early with live sets from Seattle production extraordinaires Computer Controlled & Mr. Zillion.
COMPUTER CONTROLLED
Computer Controlled is the main project of Seattle, WA (via the midwest) artist Larry Kleinke. He has been involved with the Rave Scene since 1991 in WI selling smart drinks with friends under the guise of Cybertonix. In 1993 he decided to start DJing and in 1995 started buying synthesizers and drum machines. Computer Controlled's base (or is that bass?) sound is heavily influenced by the old school Midwest Acid sound of DJ ESP Woody McBride and DJ Hyperactive. As well as labels like Communique', Drop Bass Network, Direct Drive, Industrial Strength, Harthouse, Contact, TRAX, etc... Also the early Minimal stylings of dbx, Todd Sines and Hyperactive.
Computer Controlled now has releases on the following labels:
Communique' (USA)
Assimilation Recordings (USA)
Acid Allstars (USA/Europe)
Acid Jack Recordings (Germany)
Acid Revolt Unit (France)
Arrêt d'Urgence (France)
Revival Recordings of Sweden (Sweden)
Urbanground Records (USA)
Napalm Enema (Canada)
Alien Imprint (USA)
Future:Komp (USA)
Check out Computer Controlled tracks on Soundcloud:
soundcloud.com/computer-controlled
MR. ZILLION
Mr. Zillion is a Seattle-based producer best known for his contribution to Seattle Braindance as one of the founders of the legendary Bonkers! monthly at Re-bar. He has opened for Rephlex artist Cylob, the former Drexciyan Dj Stingray 313, Ghostly International producers Solvent and Lusine as well as a plethora of other noteworthy producers in the Pacific Northwest.
*Please Note - The music of Mr. Zillion is branded by the same author of the recent Pleasure Boat Records release 'There's no limit', by Seattle's Rave On IT. Rave anthem futurism...
www.soundcloud.com/mrzillion
www.myspace.com/mrzillion
DJ sets from Show And Tell host Verse!
No cover!!
Show And Tell is a biweekly residency at the Living Room showcasing Northwest live electronic music and producers both new and experienced. Come join us, meet new friends, and listen to live sets in a cozy "living room" environment whilst sipping on the Living Room's expertly crafted drinks or great beers on tap.
www.showandtellmusic.net
Follow Show And Tell on Twitter!