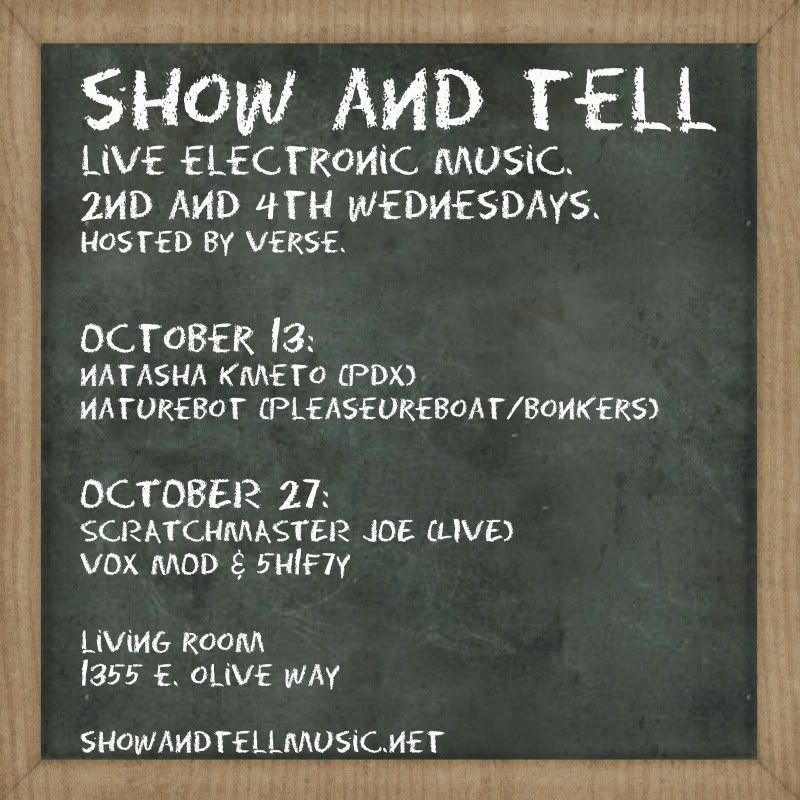 Show And Tell @ Living Room, a biweekly on 2nd and 4th Wednesdays each month celebrating the Northwest's rich array of live electronic music artists and producers, welcomes in the fall season with two compelling producers who both provide energetic and entertaining live performances in vastly different styles: Natasha Kmeto & The Naturebot!
----------
NATASHA KMETO (PDX)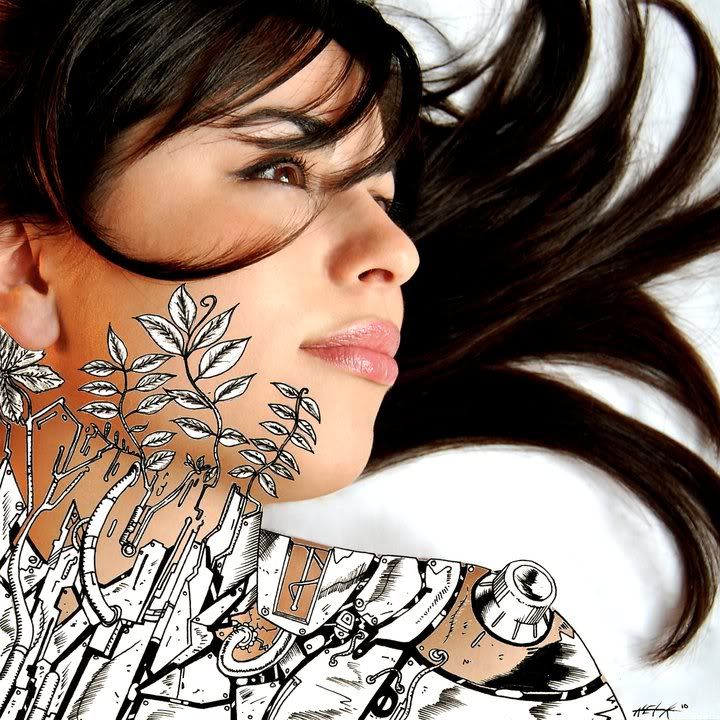 Natasha Kmeto (pronounced "kuh-meh-toe") is an electro hip-hop, singer-producer based in Portland, OR. With a rich musical background in jazz, r&b, electronic and hip-hop she likes to describe her music as "futuristic soul."
Kmeto was born and raised in California, playing and touring with bands of all genres since the age of 15. She completed the Keyboard Performance program at Musician's Institute in Hollywood and soon thereafter relocated to Portland in 2007. The move helped rekindle Natasha's creativity and passion for music, which got lost in the bustle and industry of LA. Here, Kmeto was able to explore and take inspiration from her biggest influences, ranging from the cutting edge sounds of Flying Lotus to the classic soul hits of Carole King. As the Portland Mercury writes, "Kmeto's found a trance-ready spot that tugs at the sleeves of hiphop, IDM, and maybe even a tinge of goth, with a singing voice that keeps the digital zeroes and ones imbued with flesh and blood." -Ned Lannamann, The Portland Mercury, April '10
Kmeto released her debut EP, "9" and supplemental remix EP "√9" in 2009 and began playing live regionally in early 2010.
Currently, Natasha is set to release her first full-length album, "Expressor", which finds Kmeto delving further into experimental electronic music while staying rooted in hip-hop and R&B. "Expressor" shows a marked progression in Kmeto's production and songwriting.
Natasha also continues to play live regularly, having wrapped up a great 2010 summer opening for the likes of Low End Theory residents Baths and Nobody.
http://natashakmeto.com/
http://facebook.com/natashakmeto
http://twitter.com/natashakmeto
----------
THE NATUREBOT (SEA, Pleasure Boat Records, Bonkers!)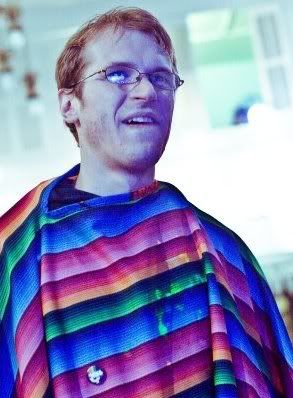 The Naturebot (aka Ian Price) is a one-man project that creates gleaming, dystopian, melodic semi-dance music meant for traveling and exploring when the non-human world is not immediately available. Taking cues from far corners and imbuing them with unorthodox song structure and analog circuitry, his music propels forgotten electronic instruments into a textured and emotional hang-gliding trip through the rainbow-stained overworld. As the founder of Pleasure Boat Records and one of the forces behind the notorious Bonkers! nights, Ian has been hard at work to bring out unfamiliar and beautiful sounds to the public for a long time.
This set will see him performing an ambient set using an 8-foot long harmonic guitar followed by a massive cycle of arpeggiated Blade Runner techno.
http://www.pbrecs.com/
----------
DJ sets by Show And Tell host Verse.
No cover!
http://www.showandtellmusic.net
http://www.twitter.com/showandtell206