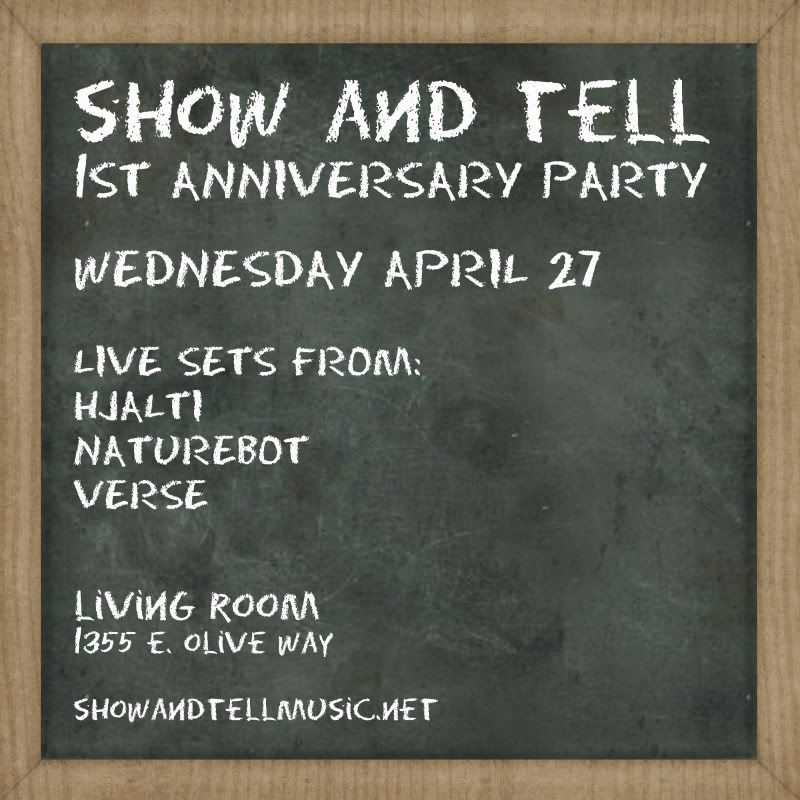 SHOW AND TELL
ONE YEAR ANNIVERSARY PARTY!!
Wednesday, April 27th
The Living Room
1355 E. Olive Way
9pm-1am
SHOW AND TELL celebrates a memorable year of showcasing live electronic
music all made in the Pacific Northwest with our 1st Anniversary Party at
the Living Room on Wednesday, April 27!
Since last April, SHOW AND TELL hosts Verse & Naturebot have welcomed dozens
of incredibly talented and prolific Northwest producers to share their ideas
and compositions in a listening party environment. Along the way, we
developed a sense of community where a myriad of roots have been planted and
friendships made upstairs in the cozy confines of the Living Room. It?s been
a special year & we?re eagerly looking forward to the future and the talent
that?ll help move forward the solid development of Northwest electronic
music that we celebrate each month.
To ring in the first anniversary of SHOW AND TELL, we feature a headlining
live set from HJALTI and lives sets from both SHOW AND TELL residents
NATUREBOT and VERSE!
- - - -
HJALTI (live)
http://d.iscontent.com/
For the past three years, Seattle-based musician Timm Blakley (aka Hjalti)
has been creating music that creeps around the edges of many genres, but
doesn?t fit comfortably into any of their confines. How can you categorize
music that combines the subtle harmonies and tones of ambient music with the
shattered complexity of IDM, and then layers it all on top of rhythms that
build to the climactic intensity of industrial and black metal? How do you
reconcile the cerebral glitch techniques that are used to create this music,
with the raw emotional catharsis revealed in the end results? Then again,
worrying about techniques and categories is beside the point when you can
just listen, and let this dark and distinctive musical vision speak for
itself.
PR for new album:
The third full-length album from Hjalti is finally here, and it's a monster.
The evolutionary changes apparent between ?Winter Asks What We Did in the
Summer? and the follow-up, ?And Will You Leave Me Thus...? have accelerated
with this release, giving us a glimpse of a gorgeous and terrifying vision.
Chords stretch and drag, pulled like tides reacting to some distant mass,
while thundering drums press in from all around, deeper and more intense
with every track. Respite is momentary, but oh so sweet. Then comes more
crushing darkness...
Include remixes by Ryan Math, Miniature Airlines, the Googly, and Naturebot.
- - - -
NATUREBOT (live)
http://soundcloud.com/naturebot
www.pbrecs.com
If you're an individual with an ear for electronic music and lives in the
Seattle area, chances are you've come in contact in one form or another of
The Naturebot's many endeavors. The Naturebot (Fremonter Ian Scot Price) has
firmly affixed his tentacles of talent to the city and shows no intention of
loosening his bubbly, technicolor grasp. Price's productions exhibit an
incredible sound palette and versatility. The Naturebot's sophomore
full-length release, "The Schnebly", instilled feelings of sonic bliss,
pumped out by an m?lange of analog and digital synthesis and production, and
exhibited frenetic, Aphex Twin-esqe rhythmic programming and composition. In
attempting to avoid clich? genre labels, this can be said: his sound can
only be defined by the individual works themselves.
Price's recent work finds the artist embracing a more subtle beauty and
understanding of space allowing for the mind to explore the moments within
his shimmering melodies and percussive structures, as evidenced by his
upcoming album Hello World! being released June 2011.
In addition to his musical endeavors, Price has been extremely active in
other areas of the electronic community. He is known for co-founding the
popular monthly Bonkers! at Rebar (RIP) as well as taking part in putting on
Show and Tell and Voltage Control, both of which have become a hub for local
artists and enthusiasts alike to share and absorb the many facets of
electronic music. Moreover, Price is also the founder and owner of Pleasure
Boat Records, which has established itself as a prominent force in
introducing eclectic electronic music to the masses for the past several
years of its existence.
- - - -
VERSE (live)
http://soundcloud.com/verse
Verse (aka Josh Roberts) has been rocking Seattle decks since 2004 when he
got his DJ start with Flea Market, an acclaimed residency featuring Brent
Tactic (now in KC as part of the nationally known DJ/producer team Tactic),
Kadeejah Streets (Innerflight), Scratchmaster Joe, and Greg Skidmore. Verse
has played in Seattle, Portland, and Austin alongside James Holden, Recess,
Jerry Abstract, Nordic Soul, Kris Moon, Kristina Childs, Eva, The Sight
Below, Jon McMillion, Natasha Kmeto, Jon Lemmon, Sam Kirkland, krnl.panic,
Struggle, Julia, TJ Gorton, Miss Problematic, Barbarella, among many others,
in venues such as Chop Suey, Re-bar, and Neumos, to cite a few. He is now
the founder and co-host of the live electronic music night Show And Tell at
the Living Room. Now trying his hand in music production, Verse is playing
only his second live set ever at the Show And Tell 1st Anniversary Party.
No cover!
Drink specials!
http://www.showandtellmusic.net/