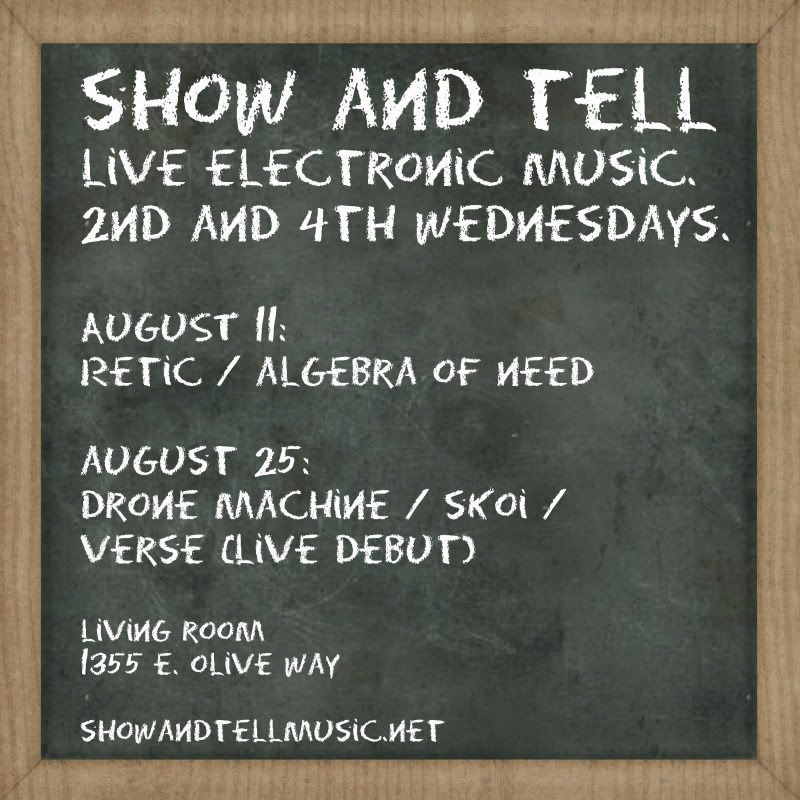 Come join us for another edition of Show And Tell, a biweekly live electronic music night showcasing the Northwest's rich array of talented producers and live PA performers. Our next edition on
Wednesday, August 11 at Living Room
features new works from two of Seattle's finest producers who craft densely textured and visceral music: Retic & The Algebra Of Need.
RETIC
Retic returns for his second Show And Tell showcase this year and has promised the debut of newly crafted material and customized visuals just for the occasion. His last sets at Show And Tell were absolutely stunning, filled with warm synth flourishes, cinematic arrangements, and, of all things, expertly placed samples from 70s yacht rock chestnuts and 80s jangly guitar pop music. Listen to his last Show And Tell sets
here
and
here
!
"Retic predominantly works in classic downtempo-IDM mode, evoking the best aspects of Casino Versus Japan, Boards of Canada, and the more chill moments of Plaid. His sound design is mazelike and amazing and his rhythms subtly funky, helping him to enliven a style that peaked over a decade ago." – Dave Segal, The Stranger
Hear tracks from Retic at:
Soundcloud
CD Baby
www.douglasteike.bandcamp.com
----------
THE ALGEBRA OF NEED
"Nobody in this city—or on this planet, for that matter—sounds like the Algebra of Need. Her pieces range from 47 seconds to 20 minutes, and they follow circuitous paths to seldom-trod regions abounding with highly unusual tones and bizarrely charming tunes. Some tracks boast a monomaniacal, hypnotic quality; others move in unpredictable spasms and lurches. But no matter the methodology, they spellbind with the sure grip of genius. It might seem hyperbolic, but I think that the Algebra of Need is a maverick on the level of Aphex Twin and Raymond Scott." – Dave Segal, The Stranger
Hear tracks from The Algebra Of Need on
Soundcloud
Past Show And Tell guests include Naturebot, Gunnar Lockwood, YaNoMas, Cyanwave, Rolo Tamasi, Miniature Airlines, Googly, Citizen Mori, Hjalti, JT O'Neill, and Scratchmaster Joe.
Join at the cozy confines of the Living Room for our next edition of Show And Tell!
No cover!
Drink specials all night priced $5 and under!!
www.showandtellmusic.net
twitter.com/showandtell206