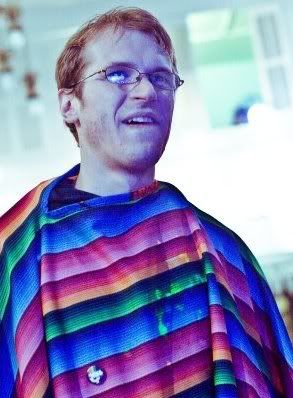 Show And Tell regular and good friend (and chile connaisseur) Naturebot is premiering new material at tonight's edition (which also features the multitalented Natasha Kmeto,
whose set I previewed earlier this week
). He took some time to discuss the new tracks & latest news surrounding
Pleasure Boat Records
, his record label dedicated to emerging Northwest electronic music artists.
SHOW & TELL: What have you been working on as the Naturebot? What can we expect from your live set this Wednesday at Show And Tell?
NATUREBOT: I have been working on figuring out just what I want to do with music by trying everything I swore I never would! For me that means just relaxing and going into a track with no set goal in mind and letting it wander, allowing myself to make disco and techno without pushing it off of the tarmac into unknown territory, and not writing music with any specific personal meaning pushed into it.
I also have slowed down on recording in general over the last year in order to build instruments (mostly electronic, a couple otherwise) and learn to sequence without the aid of computers. Mostly it means a lot of experimentation without recording or setting into a song, much like those drummers who end up without a band so they sit around all day hitting each drum with different sticks at different angles and try to pinpoint some form of micro-technique.
I also burnt out on listening to new music after going strong on promoting and producing for a couple years straight and am now getting back to enjoying all sorts of music. Mostly, discovering the great music that many of the people I've met in Seattle are making that is far more interesting, unique, and varied than what I am hearing in most clubs. It has really driven me to try and push Pleasure Boat Records forward and release a ridiculous amount of records to the public!
Anyhow, this will be one of the most freeform sets I've ever done, with a longform space techno cycle I have been organizing on my newest piece of gear (the
Spectralis
) as I've learned its ridiculous capabilities. Afterwards I will be playing a selection of polished tracks, mostly from the upcoming releases, that I have never brought out in a live setting.
S & T: Any plans for a formal Naturebot release?
NATUREBOT: There's a few in the works, percolating slowly. I have an album I have been working on (and off) for 3+ years now called The Albatross that I've tried not to hurry. Giving myself a couple years to sit with a song is a comfortable way of letting myself enjoy it without and worry about outside judgment before I put it out there and get to anyone's opinion on it. For me, making music has always been uncomfortably personal, so much so that I'll probably never release many of my favorite tracks. Especially when it gets down to recording vocals and live instrumentation I start to flounder, but there's always an 'ideal version' of each song in my head and those aspects are often on the path to reaching the finished piece.
I also have a 'dj friendly' release coming up on
KRecordings
(a new local label run by Travis Baron) that comprises of a track I made a while ago and gave to one friend. That friend shared it with Travis and he seemed to flip out over it. I had to dig deep to even find the original, but the fact that somehow after a couple years it made its way to someone that loved it has been a very welcome surprise! There will be a couple other originals in there as well as remixes. I think kosmische techno is a fitting term for it.
There's another EP I've been sitting on for my friend
Mr Zillion's
upstart label Ecstatic Bliss which comprises a slew of very different tracks including some scatterbrained bliss-step with vocals by a young Tacoman named Young Silky.
S & T: Pleasure Boat Records has some exciting releases out this fall - please talk about them & how they fit into the Pleasure Boat aesthetic.
NATUREBOT: Oh, there's a ton of stuff in the works!! The Pleasure Boat aesthetic, to me, is to release music by those artists who are striving to make something new that doesn't forsake the idea of emotive music. What has been missing in electronic music over the last decade in my opinion is the pioneering spirit of creating a space that is made for people to exist in. There's a lot of cold or experimental music that I hear as great escapism, allowing people to live outside their lives momentarily. I do not hear that in the general electronic landscape these days, which is so genre-obsessed that personality and inventiveness are blackballed. The push to hear 'future music' really destroys the point of artistry, which is to hear something that exists out of time and comfortable references. If I can support those oddballs with personal vision that goes beyond wanting to make something nasty, filthy, sick, etc then I think Pleasure Boat fulfills its purpose. Artistry and substance above production value and gloss, always. The thing about gloss is that you can always see right through it.
First off, we are releasing an album by
SciFiSol
, a female artist from Portland who I heard shortly after moving here and her music knocked me down. If I heard it without any context I'd be unable to tell you when I thought it was made. She writes dark and bizarre songs that (in my mind) resonate with the sort of ferver I hear in apocalyptic folk and darkwave, but with a production aesthetic similar to Fever Ray and Pram. Its very hard to describe! After the album release she will have an EP with remixes by Hansen aka Norse Rarebit, Senor Frio, and myself. We're bringing her up on
October 22nd to throw the record release party at Chop Suey
and I highly suggest people witness it!
Potatofinger, one of the earliest Pleasure Boat artists, has a couple releases on the way as well. One is an off-the-wall soundtrack to the live dance-fight performance piece Sakura Rising and another is a collaborative single with UK dubstep madman Fabian. They hit #1 on the Soundcloud dubstep charts with one of the tracks and have a huge stream of support with the tracks, and for good reason- the songs have the best dubstep-style production possible but are ridiculously brazen in their structure and mood. Oh, and remixes by a ton of folks including 214, Splatinum, DJ Lord Fader, myself, etc etc
There's a 1 hour song (!) we're releasing by Ya No Mas that is some sort of electro-sludge-prog epic, it is fantastically stream-of-conciousness and lucid.
We are putting out an EP by a man from LA known as Analog Square that is some truly refined melodic electro. That will have stunning remixes by RyanMath (an unknown local who's just getting going), Relcad, and Mr Zillion. The Analog Square material makes me feel a ton of comfort and I think the man really understands how melody and rhythm can interact, plus it all has a bittersweet air of nostalgia.
There's more, but I'll share that later!
S & T: What's next for the Naturebot? Pleasure Boat?
NATUREBOT: There's always new things in store but what actually sifts through the rest and becomes real is unpredictable for me. I'll get back to you on that...
As for Pleasure Boat, we're going to keep releasing music and see who latches on. Our last couple releases (Relcad and Rave On It) have gotten national airplay and great press but it still seems like the Pleasure Boat world is unrecognized by most of the Seattle electronic scene (see the comment about blackballing above!). There seems to be more listeners all the time and the enthusiasm is growing, se we'll be happily creating music in our realm for as long as it's possible.