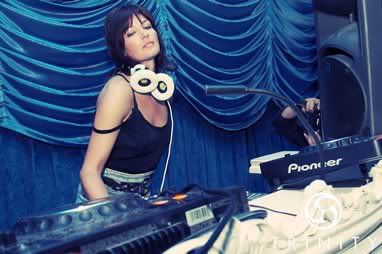 SHOW AND BONK
Friday, October 22
Chop Suey
1325 E. Madison
(click
HERE
for more info!)
Show & Bonk Artist Spotlight: EVA
www.dj-eva.com
When one talks to Eva about her nearly two decades of experience behind the decks & how she broke into the scene, you start to realize that it closely reflects the infamous history of Seattle club culture. But she is also a relevant part of the current DJ scene in the Northwest, consistently drawing a loyal audience around town at such venues as See Sound Lounge and Trinity. Eva's enthusiasm and party-starting track selection on the turntables is magnetic to witness, and she closes out this Friday's Show And Bonk main room showcase with Bob Hansen.
VERSE: How did you get interested in dance music in the first place?
EVA: Probably started with the Monastary club at age 15. I didn't go a lot only a few times just enough for total corruption. I heard the most amazing music of my life on the best sound system ever and could here it from a block away. All my djing inspiration comes from being a dancer, dancing to File 13, lime on the grid, hi nrg disco, house music, acid house. The Underground (in the U District) was the first place I ever played records
VERSE: Were you a regular DJ at the Underground?
EVA: I was the first DJ to ever play the Underground! They headhunted me so to speak because they knew I knew a lot about music, having worked at Tower Records on the Ave for many years. Brian Lyons & Randy Shlager came to see me. I played every Friday for a few months before Donald Glaude took over at the Underground for me. It didn't last that long because I turned 19 and discovered Graceland in Vancouver and away i went every weekend for the next 2 years. Their DJs Mic & Robert Shea were huge inspirations - I looked up to them so much. It was the dawn of house/acid house, new beat - I was hooked! I'd drive back 120 miles an hour for acid house night on Sunday at the Vogue for Masa! All in one weekend! I'm slightly music obsessed, searching for the perfect beat.
VERSE: I remember that time as huge for the warehouse rave scene. Were you playing those parties often or did you stick to the clubs primarily?
EVA: After getting Vancouver out of my system as a clubber, I started working in film industry and managing a prop house. It became my new career so I got sucked into that and therefore didn't rave until a bit later, many years later. I thought I wanted to do film, as the money was so good but music is my heart. I come from a long line of musicians – it's in my blood: my real dad was the bass player in the band Floating Bridge and in a band w/ Floyd Rose who invented the Tremelo. TKO .
VERSE: When did you make the leap from the film industry to music?
EVA: When I met Roman in 1996, he turned me where I'd left off. We started hanging out a lot and i started buying records again and he basically said "YOU NEED TO DO THIS". I never looked back. I first started playing records again at The Power Plant opening for house djs in the main room/ drum & bass in the other. Roman introduced me to drum & bass, which was fucking amazing at the time, so much intelligent stuff. Around the same time, I started one of the first D&B weeklies "Pressure" at the Vogue, brought in all the pioneers to guest DJ, and eventually moved it to Aro.space when Vogue lost their 20-year lease around 1999.
lightyears ahead of its time
VERSE: How much longer did you play drum & bass before making the leap to more house-oriented material?
EVA: Until around 2000-2001. I was doing a nighe w/ Marcus and Caseone called Rushhour in the basement LSC. I was kinda getting toward the end of what i feel i could do with drum & bass. My taste was evolving back to my house & techno roots
house/techno. It all happened very quickly and that's when suddenly I found myself opening for Fatboy Slim & Paul Oakenfold.
VERSE: Were Fatboy & Paul complimentary to you?
EVA: They were amazing! I played a gig with Fatboy Slim that was beyond epic on Fire Island in New York., set up by Caroline Davenport, who I worked with & was managing me at the time. I had already played with Fatboy Slim at the Showbox
so he was familiar with me & had been talking about me, apparently. That Showbox show was epic, too.
VERSE: How did James Lavelle hear about you? So this was around the time you got a call from James Lavelle, right?
EVA: My friend Chad brought Lavelle to Baltic Room and that's where we met. James came in with a cigarette hanging from his mouth and I didn't know him at all: he was slightly intimidating, not friendly really, with bottle cap glasses. After awhile we were practically best mates. After the first time James and I played together, he was brought back a second time and again I opened. During my set, he came up to me and said "I'm bringing you to
Fabric
" and within a couple wks it was done, to my amazement.
VERSE: What was the Fabric experience like?
EVA: Well for me, it was really hardcore, like fuck – I'm going to play Fabric, this is huge! Having them actually fly me there, pay for hotel and fee - I was like "does this mean I've made it? It was in July and everyone was on holiday to Ibiza! But the lineup was amazing: Busy P, among others.
VERSE: Was this also the time you started producing?
EVA: Remixing UNKLE was my idea after the Fabric gig. I pushed James Lavelle a little bit, but he eventually asked me to remix
"Invasion"
with Medway. It was a big break on so many levels, so many musical relationships forged. Since Medway lived in Orlando, we made the track by passing files over the web. Now, Ableton Live is the direction I'm heading, artistically and performance-wise.