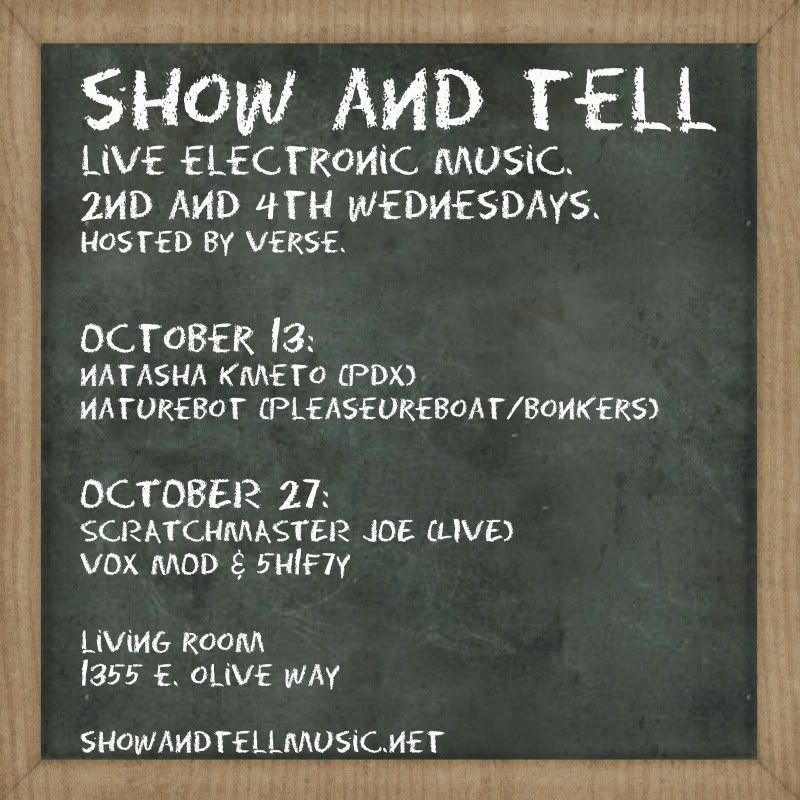 Show And Tell closes out a very busy and momentous October with one of the first ever live sets from local turntable legend Scratchmaster Joe and Show And Tell debuts of Vox Mod & 5H1F7Y at the Living Room on Wednesday, October 27.
SCRATCHMASTER JOE
"I am Scratchmaster Joe and my music partner's moniker is "Refuge". We are two men who refuse to perform fellatio upon ourselves (or each other) in our bio. We both love music and we have some ...natural ability to produce music that we find appealing, which you may find appalling. We want you to dance and we want to be your friend. Love Always, Agreeable Horrors (P.S. We are not classically trained. We're barely even housebroken.)" – Scratchmaster Joe
VOX MOD
Making discoveries deep in the universe requires musical accompaniment that has vast tracts of vibrant frequencies, a dangerous fascination with wave synthesis, and a CMYK diamond-faceted appreciation for all noise. Based out of Seattle, Vox Mod (aka Voicechanger) has been producing, performing, and exploring electronic music for more than 10 years. Driven by the power of ideas and the passion of inspiration, Vox Mod seeks sonic salvation for all bodies and minds.
5H1F7Y
As a Washington state native, Taylor Dahlberg, aka 5H1F7Y (pronounced "shifty") has been producing electronic music for the past 10 years. At the age of 17, towards the last few years of his soccer playing days, 5H1F7Y had discovered the joy of electronic music. Being exposed to all genres of electronica from fellow friends and current day venues, he instantly fell in love with the idea of being able to make music, specifically electronic music.
Originally, 5H1F7Y purchased an all-in-one DJ turntable package, as the first step in being able to work with music directly. It wasn't long before he realized that mixing music together was a good outlet, but was not occupying his creativity as much he knew something should be. It was 2 years after his original purchase of a turntable and mixer set that 5H1F7Y decided to buy a drum machine. A machine which was capable of allowing an artist to create their art, in the form of an electronic beat. It was at this point that his life would be changed forever.
With DJ sets provided by Show And Tell host Verse!
No cover!
www.showandtellmusic.net
www.thelivingroombar.com